What's in a good facade? A well done one can transform the outside of a building, giving a tired exterior a facelift or simply bringing an old building into the modern age.
Facades do more than look pretty. There are serious savings to be made in your energy expenditure bill, and by selecting ones that combat solar glare without impacting employees' ability to see outside, productivity can be increased too.
At Locker Group, we offer a range of innovative facade designs that suit numerous applications. Below, we've outlined three different products, highlighting what makes them stand out solutions for any facade application.
Atmosphere
While natural lighting is good, there is such a thing as too much. Trying to work with the sun in your eyes or on your computer screen can put a halt to the productivity of even the most earnest employee. This is where Atmosphere's perforated panels step in.
This new addition to the facade market has been specifically designed to combat solar glare yet allow workers a clear view of the space outside. Atmosphere achieves this thanks to folded steel panels that are versatile enough to meet any need. With different sized perforations on the top and bottom face, the panels simultaneously reduce the amount of solar radiation entering an office while maximising vision outside.
Reducing the amount of sunlight (and therefore heat) serves a double purpose. With less radiation entering the interior, less energy is required to cool the building. During period of peak sunlight, such as the height of summer, this can translate to serious energy savings. Simply installing Atmosphere to the exterior of a building reduces the amount of solar radiation hitting the glass by around 70 per cent. For a typical building, this can account for as much as a 40 per cent reduction in energy costs.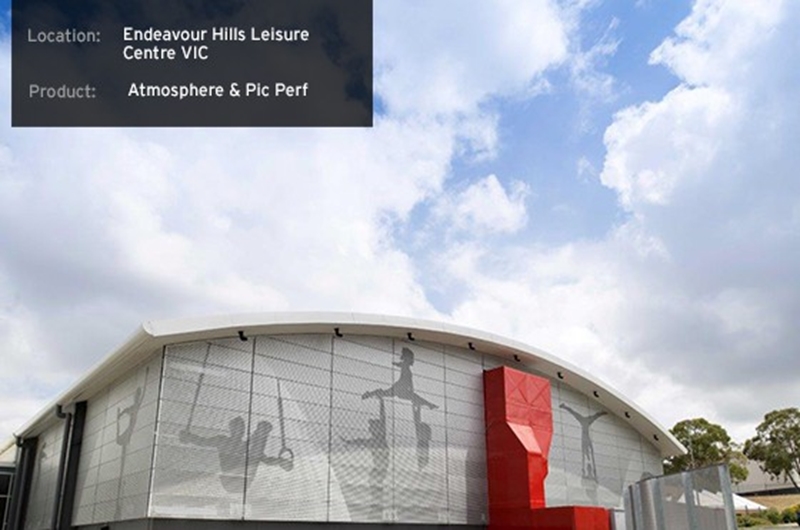 Pic Perf
Your office is often the face of your company, so when it's time for a makeover, Pic Perf is the way to go. Suddenly, a blank wall is transformed into a work of art overnight.
Pic Perf is a technique that adds a design to an existing facade such as Atmosphere. It carries the illusion of a single wall of art, creating an image from hundreds and thousands of punched holes, while still carrying out its regular functions as a facade. Despite looking like a solid wall from a distance, the perforated metal sheets retain air flow, vision and shade protection. As it combines the benefits of Atmosphere, using Pic Perf will see similar reductions in energy expenditure. It even works well as internal features.
Customisable to internal or external application with any image to suit, it's an addition that's designed to leave an impact.
Expanded metal
Rounding off the list is expanded metal. Designed for the prevention of the harsh glare of sunlight, this robust facade has a multitude of uses. Some of the applications suited for this product include:
Car park enclosures
Security screening
Plant screens
Balustrade panels
Privacy screens
In an external application, expanded metal gives an industrial look to the outside of a building when viewed up close, yet appear lightweight and open from afar.
The function and versatility of metal facades is an effective and economic option for the renovation of a building's exterior. At Locker Group, we like to work closely with architects and designers to come up with creative solutions to construction requirements, whether the aim is to increase productivity by combating the sun, or to turn a building's exterior into a giant logo.
To find out more, get in touch with the team at Locker Group today.