Beauty isn't skin deep. While Locker Group has a long history of exterior application with architectural fixtures, their products hold just as much potential for using interior design to transform a building.
When making the most of an internal space, it can be hard to find a single material that can be used in multiple settings and carry out multiple functions. Not only are internal environments different than exterior ones, there is an endless variety of purposes a room can have that designers must take into account.
As Locker Group's architectural and commercial representative, Joe Berkelmans knows what he's talking about when he says that metal products can be used in any architectural setting.
"The ability to roll, shape, adjust colour and size – gives our products both interior and exterior superiority over more inflexible products."
In this article, we'll be going through some examples where Locker Group's products are among the most practical and versatile materials to work with in interior features.
Why use metal in interior design?
In a word, Versatility. While other products such as wood, plastic or glass may have their time and place, none is as diverse as metal according to Mr Berkelmans.
"A versatile product goes beyond simple application such as ceilings, balustrades and screens," says Joe. "When using metal in interior design, the ability to roll, shape, and adjust colour and size gives our products both interior and exterior superiority over more inflexible options."
"On top of this, the durability of metal means that in whatever application it's designed for, it'll stand the test of time, long outlasting the likes of timber."
Because no two metal installations look alike, in order to gain a better understanding of the capabilities of metal, it's best to see it in action. Below are some prime examples where Locker Group's architectural products have transformed an interior space:
1. Perforated metal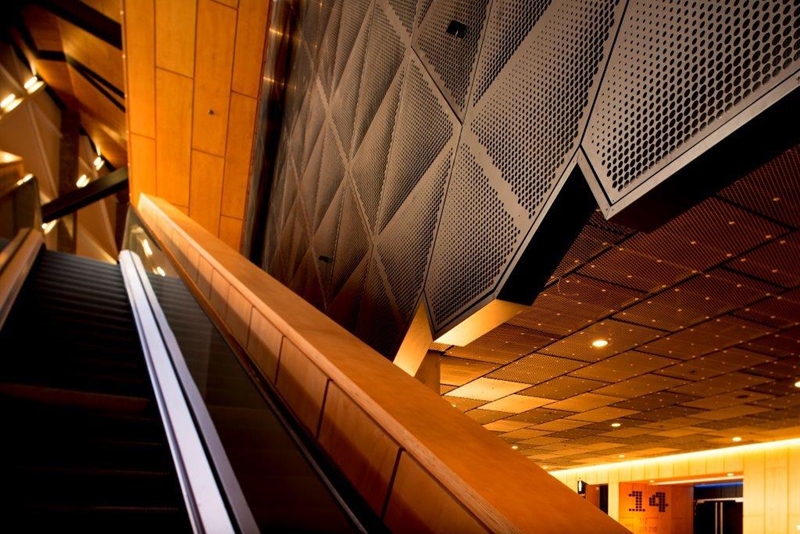 In large open spaces where a lot of people congregate, excess noise can be an issue. In this application, the use of perforated metal acts as an acoustic dampener. According to Joe, the perforated holes disperse sound, slowing it as it travels through, to scatter and reduce the overall amount of noise. While the above picture shows perforated metal at Perth Arena, this application is more commonly used in industry.
"Perforated metal is often used in manufacturing, on the walls of factory floors," says Joe, as a way to protect workers' health and prevent hearing damage, blending form and function into a single product.
2. Wire curtains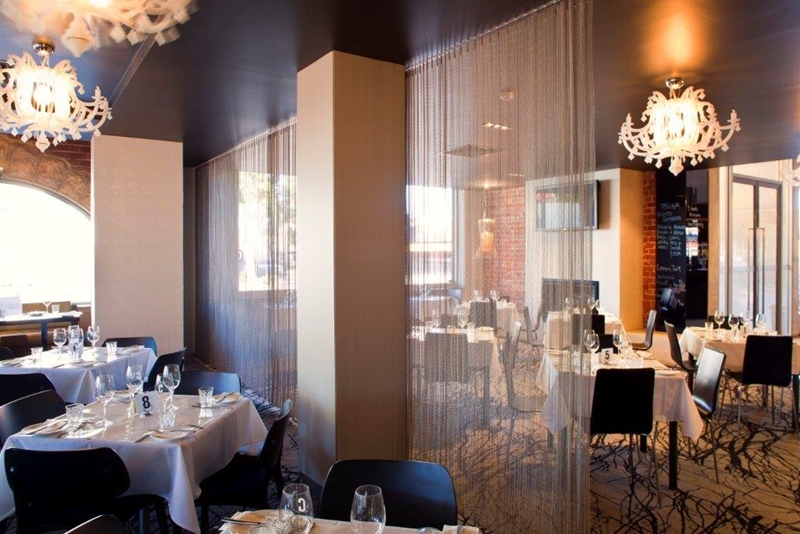 When internal separation is needed without compromising on space, such as in an office or restaurant, choosing the right dividing material can be hard. How do interior architects design a space that at the same time partitions areas and keep them from feeling cramped or closed off? The answer: wire curtains.
Wire curtains offer the practical solution as in the above picture of separating, not subtracting, space.
"The moveable curtains let the owners adjust the interior space to open up the restaurant and meet whatever requirements on the night, without compromising on space," says Joe.
In a business setting, wire curtains can also help achieve the desired balance between open and private office environment to create a more productive workspace.
3. Pic Perf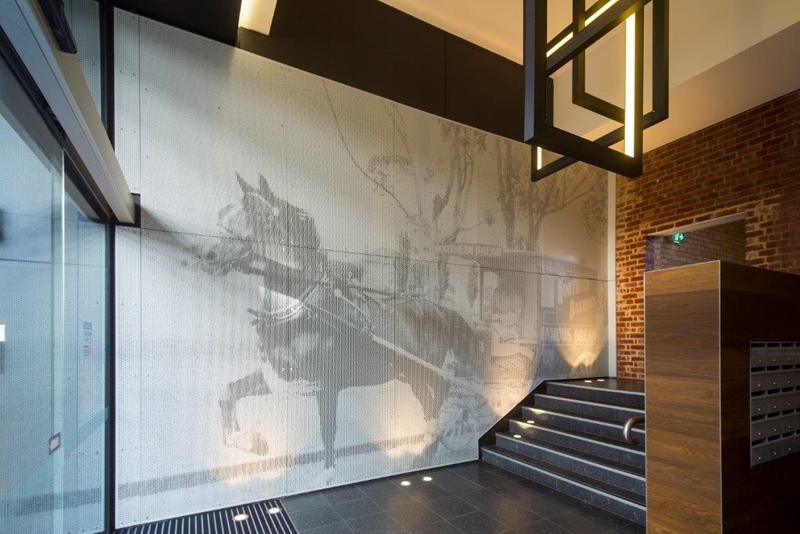 While metal may carry the perception of befitting a modern, industrial style, in the right application it can also serve as a link to the past.
"In designing the renovations for the old Tip Top factory in Brunswick, they needed a way to tie the heritage of the building with the modern design, as a way to keep the history of the place alive," says Mr Berkelmans.
Pic Perf was the natural choice, combining both the perforated metal medium with an original image of the old factory.
Where is the future of metal design?
Perhaps one of the most exciting frontiers of interior application of Locker Group's products is the growing interest in using them in support of green walls and spaces. In this application, wire mesh or a similar product is used as a scaffold for plants and vegetation, turning bare spaces into lush green features. Not only does having more green spaces make an interior (or exterior) space look more inviting and unique, it also helps improve the air quality for the people working in and around these green walls as the vegetation acts as air purifiers.
At the moment, green walls are constrained to small-scale projects such as rooftop terraces, says Mr Berkelmans, but he's seen a huge amount of interest in it recently as building design becomes more environmentally focused.
No matter the application, there's something to be gained from using one of Locker Group's many architectural products. The versatility, durability and style of metal can not only make a modern building look cutting-edge, but it can also serve as a vital link to the past.
To find out more about Locker Group's range, get in touch with the team today.